Webhaptic Intelligence operates an industry standard focus group facility in Lagos, Nigeria. Our meeting rooms provide an ideal and discreet environment for focus group meetings and one to one interviews. Our top-rated interviewing facilities in Lagos is purpose built for focus groups, research interviews, product clinics, and workshops. It includes a unique and trendy design that helps promote an environment of openness and engagement. Digital audio and visual recordings are available at the end of your research and can be sent electronically right away.
In Lagos – Nigeria, we have two state-of-the-art studio suites: The Haptic and The Wanilake. The Haptic Suite comprises of a respondent room and a client viewing room adjoined by a one-way mirror. The Wanilake Suite is a non-viewed room comprising a respondent room.
Our facility is regularly rented to other market research firms.
The Haptic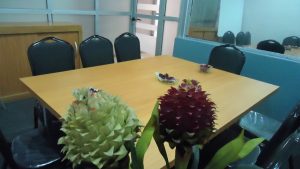 The Wanilake