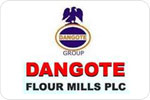 As parts of its move to consolidate its market equity in Africa, Dangote Flour has unveiled a new improved pasta product called 'Ecccellente.'
The product is expected to reduce Nigerians' dependency on rice consumption.
While speaking during the customer launch in Kano on Tuesday, the Executive Director, Sales and Marketing, Dangote Flour, Halima Dangote said the improved product would delight consumers and distributors, as it comes with a new taste and new pack.
She revealed that the re-brand followed a research by the company that indicated that consumers would prefer an improved non-sticky pasta.
"It's a new improved pasta with durum wheat. We did a lot of tests and research, and it took us six to eight months to get the right combination in order to give consumers quality pasta with the best taste.
"Despite being an indigenous product, it can compete favourably with imported brands."
Halima expressed satisfaction with the reception of the product, judging from the large turnout of people at the re-launch.
"I cannot emphasize enough that our goal is to ensure that we produce the best product that will delight you, our distributors, wholesalers and retailers," she added.
She said some countries had already signalled an interest to import the product from the Dangote pasta.
The Group Chief Executive Officer, Dangote Flour, Thabo Mabe, said, "Now, we have the most attractive packaging; please stock up, these will be flying off the shelf when consumers see it. Our new pricing list will also leave you smiling."
Comments are closed.